Guest contributor Steven Goldstein is Executive Vice President of Saga Communications. 
---
I purchased a new GMC Acadia two weeks ago — and one week later, it's already on a recall list … arrghhh. So that's disturbing item number one. Now, number two: Where is the AM/FM radio?  Repeat — no AM/FM.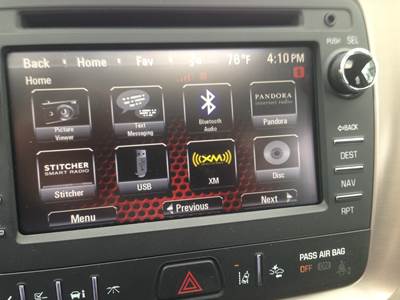 When the car is started, the main screen includes various audio options: Pandora, Stitcher (a good but not well-known talk aggregator) Sirius/XM, a USB hub and a picture viewer. A picture viewer. Really? And GM thinks they have problems with recalling cars now.
So, where is the AM/FM? Could Radio Ink's Eric Rhodes been correct with his apocalyptic pronouncement that AM/FM radio would be wiped out from cars? And this fast? Was the Jacobs Techsurvey10 study wrong in saying 89% of people consider AM/FM important when shopping for a new vehicle, and the top audio choice? Edison Research/Triton Digital's The Infinite Dial 2014 found 86% are using AM/FM and 14% using streaming radio.
Well, I found the AM/FM.  And here is the incredibly eye-opening news to me and should be to everyone in the radio business —  we have been relegated to a second screen. One now has to click to find AM/FM. And to add insult to injury, AM/FM is no longer one of the physical buttons surrounding the screen.
The ergonomics of the screen itself in this 2014 GM car show how convoluted and difficult engineers can make the "center stack," as it is known. For sure it's not designed by anybody at Apple. There is little intuitive about it. Buttons are small, menus are complicated and the screen choices are clearly intended to promote GM's economic partners, rather than focused on usability and pleasing customers.
Indeed all of the icons on the screen can be customized, but that is asking an awful lot of the average driver. My parents, my wife, even my kids may not have the technical ability, or desire, to reconfigure the menu.
Like a bolt of lightning, this tectonic change focuses the need for AM/FM radio to aggressively and rapidly advocate for itself to insure that we remain a central point in an increasingly complex choice of audio in the car.
The Dash conference in the fall moves up on my list of import as does the RAB and NAB's voices in this matter.
PS: I also bought a Jeep Grand Cherokee recently and the screen in that car is what everyone in our business should hope for.