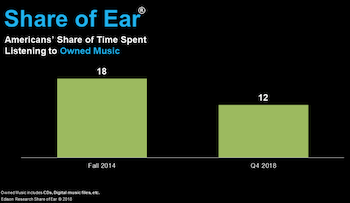 The Share of Ear survey from Edison Research has been charting trends in U.S. audio consumption since 2014. In that time, several new trends have emerged, such as a heavy shift toward subscription streaming and a surge of interest around podcasting. However, a new blog post from the company noted that with all of those gains, one particular listening category has been in decline.
Owned music is the category with the single biggest change in Share of Ear results. This audio source was responsible for 18% of all audio consumption in 2014, but that share dipped to 12% at the end of 2018. "The loss of six 'shares' of listening constitutes the biggest change, up or down, documented by "Share of Ear" to date," Edison observed in a blog post.
The audience size for owned music has also declined. The 2014 survey showed 38% of respondents listening to owned music at some point every day. In the latest results, the rate had decreased a third to 25%.