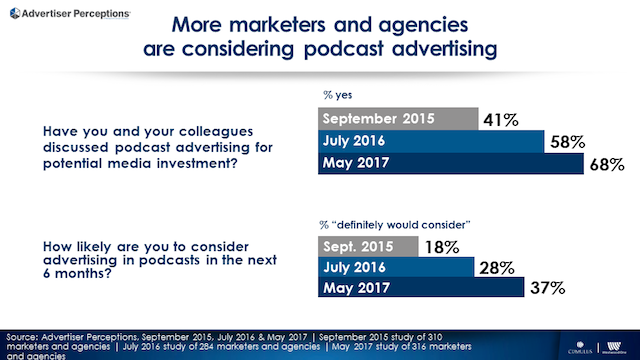 Westwood One has updated its State of Podcasting 2017 report to reflect additional research on the audio format. It addressed the key takeaways in a blog post.
The data point to steady, continual growth in the podcast audience. Nearly a quarter of Americans aged 12 and up have ever listened to a podcast. Millennials are driving double-digit growth in many demographics, with overall growth of 23% between Q4 2016 and Q2 2017. Hispanics in this age group showed 56% growth between the quarters, while men posted 21% growth and women posted 23% growth.
Advertisers have been getting on the podcast bandwagon as the listener base grows. Higher percentages are discussing and considering podcast ads. In September 2015, 15% of marketers said they currently advertised in podcasts; that rate rose to 29% by May 2017.