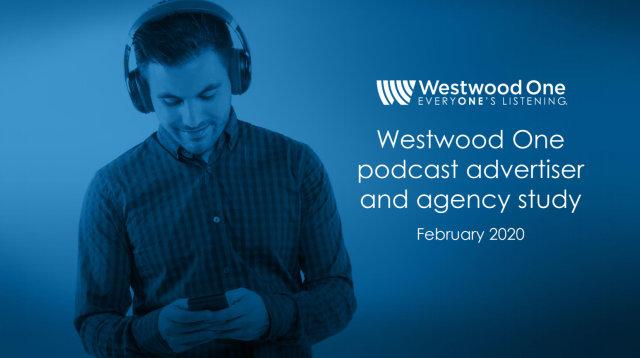 Last week we poked around a public Westwood One podcast survey, and reported our impressions. Today, Westwood One releases the results, in both an executive summary format, and a detailed Powerpoint PDF. One of the most interesting aspects of the PDF is that it relates dozens of verbatim answers to a question about podcast revenue growth.
The survey was conducted by MARU/Matchbox, and was completed by 95 advertisers and agency executives in the first week of February.
The executive summary, posted by Pierre Bouvard, itemizes key points:
Podcast measurement and attribution rate poorly according to brands and agencies. Still, there is hope on the horizon. Two out of five say things are getting better.
Better measurement, attribution, bigger shows, and bigger brands are what's needed for podcasting to crack $2 billion in ad spend.
A monthly reach of 44%, up from 32% in 2019, is seen as a tipping point to a step up in spend.
The consensus on a good podcast test buy is 105 ads in 5 podcasts over 7 weeks. A test buy of one ad a month is marketing malpractice.
Attribution services rate well and should expect greater usage. Newly launched measurement solutions need time to be understood and tested.
The survey drilled into respondent sentiment toward, and opinion of, ad-technology products which are moving into podcasting as they have more thoroughly into streaming audio. In particular, attribution (verifying ad effectiveness via confirming some kind of listener action resulting from the campaign) is a focus. One question linked attribution with audience measurement generally. Asking for an assessment, the survey reports only 17% of respondents saying that measurement/attribution is Good or Excellent. But 43% think it's getting better.
On the ad delivery front, 95% were familiar with dynamic ad insertion (a counterpoint to live host reads) and 64% are using it.
The survey is extensively quote on the question of what would drive $2-billion annual podcast revenue, keying off the IAB's prediction that 2021 will be podcasting's first $1-billion year. Measurement seemed to be top of mind for many respondents who predicted that advancements in audience analytics would be the key. Respondents called for "standardized" and "uniform" measurement over and over. "More content" also appears a few times in the quote roundup.
And perhaps the most incontrovertible answer of all: "Time."