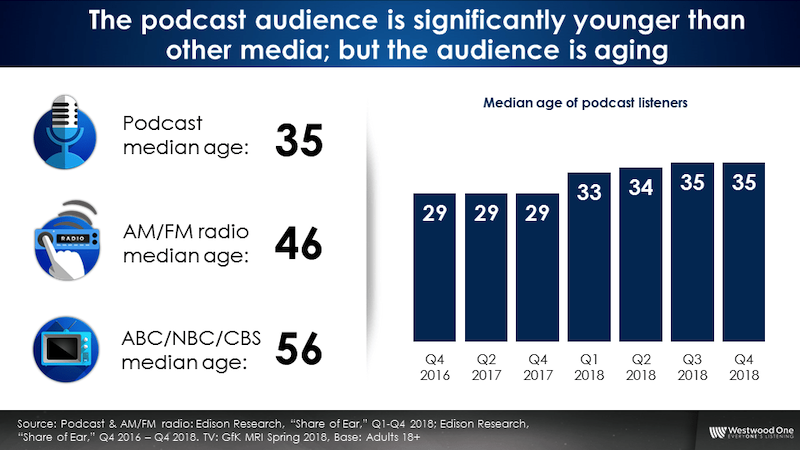 Westwood One released its 2019 Audioscape report, with an assessment of the latest trends and data in the audio industry. This year's analysis focused on the impact of smart speakers and podcasts, and how their audiences differ from AM/FM radio. Audioscape is based on a curated selection of research metrics from a variety of sources.
Podcasting has attracted a younger average listener than traditional broadcast. Westwood One reported that the median age for podcasts is 35, compared with a median of 46 for AM/FM radio and 56 for ABC/NBC/CBS.
The podcast audience also tends to give shows their undivided focus, with 71% reporting high levels of concentration. The self-reported rate exceeded listening to music (51%) and only trailed behind checking news (76%) and checking weather (74%). Podcast listeners also identified the audio shows as filling the needs to learn and to be entertained.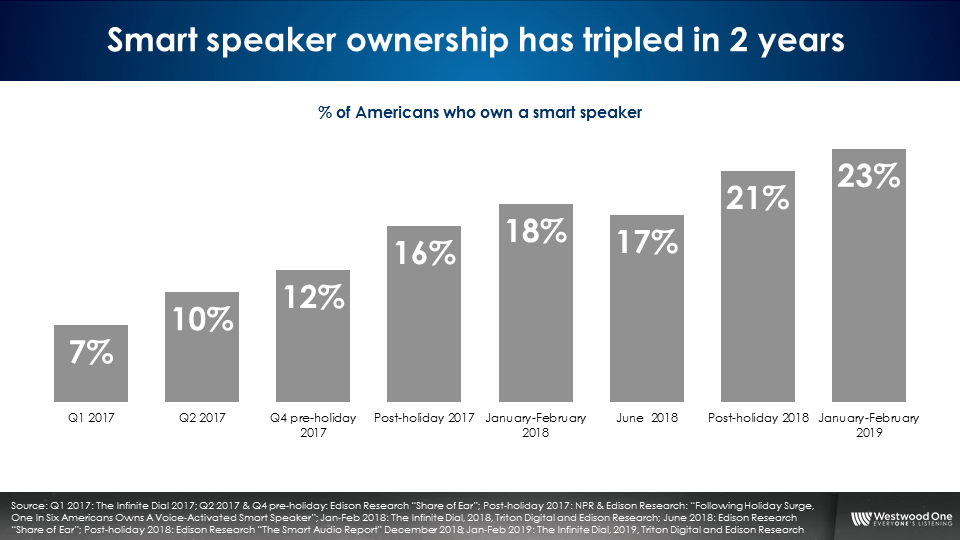 The report compiled several other research efforts into smart speakers, starting with ownership rates. Different sources have pegged the U.S. ownership shares anywhere from 21% to 41%. Westwood One assumed a percentage in the low twenties, in line with the 23% set in Edison Research and Triton Digital's Infinite Dial report. Based on that rate, ownership of smart speakers has tripled in the past two years.
The top demographic for smart speakers appeared to be the 35-54 age bracket, with 38% of smart speaker owners under that umbrella. Millennials, or ages 18-34, represented 29% of the smart speaker audience, while even teenagers represented with an 11% share for ages 13-17.
Some surveys have questioned how smart speakers may impact AM/FM radio consumption. Westwood One fell on the favorable side, reporting that the daily time spent with AM/FM radio for smart speaker owners is a level 1 hour, 50 minutes for both the total U.S. adult population and for smart speaker owners. It reported a slightly higher daily reach for the smart speaker segment of 74% compared with 71% for all U.S. adults.