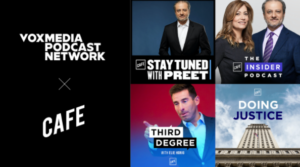 Vox Media announced Sunday evening that it has acquired Cafe Studios, co-founded in 2017 by Preet Bharara. Cafe Studios explores how law and policy intersect with politics, news, business, history, and technology.
The acquisition will be placed in Vox Media Podcast Network, a division of Vox Media Studios, a unit of Vox Media.
Cafe  Studios offers a fleet of podcasts, the best known of which is probably Stay Tuned with Preet. Other well known titles include The Insider Podcast, Third Degree, and Doing Justice. The firm also offers a premium membership called CAFE Insider, which provides exclusive podcasts, newsletters, and private virtual events.
Vox Media's podcast network is a sprawing affair self-described as "one of the largest, fastest-growing, and most topically-diverse collections of high-quality podcasts." The group jumped into the podcast news space with Today, Explained in February 2018, and now publishes over 200 active shows. A previous acquisition of New York Magazine brought Pivot, starring Kara Swisher and Scott Galloway, into the fold. Land of the Giants, Recode Media with Peter Kafka, Decoder, and The Weeds are prominent properties.
"Preet and his team at Cafe have built a successful podcast studio with a compelling perspective — and an equally impressive community of devoted listeners," says Vox Media Chairman, CEO, and co-founder Jim Bankoff. "Bringing Cafe into the Vox Media Podcast Network is aligned with our goal of delivering high-quality editorial content at scale and providing audiences highly relevant voices and insights."
"This is an opportunity for tremendous growth with a company that shares in Cafe's mission, values, and commitment to quality," says Preet Bharara. "Our creators are bursting at the seams with plans for more thoughtful, educational content and, in Vox Media, we earn a partner with a large audience, strategic business, and a strong reach across text, video, and events."
Vox is a presenter at the upcoming IAB Podcast Upfront in May.
.