Podtrac released its monthly rankers for March: Top Podcasts, and Top Podcast Publishers. Each list has 20 spots, and they measure U.S.-derived statistics among Podcast measurement clients.
There is never a great deal of movement in the monthly drumbeat of these high-profile rankers, and the March metrics are remarkably locked-in from the previous month. That is especially tru for the Top Podcasts list, where the top nine slots are identical to February. One podcast rejoins the list: TED Talks Daily, moving up one slot into #20. Other shows shuffled around a bit in the pecking order for March.
On the publisher side, it probably goes without saying that iHeartRadio and NPR resumed their customary #1 and #2 spots, respectively. The #3-placed New York Times attained half the audience of NPR podcasts. NPR achieved 22-million downloads across 47 active shows; iHeartRadio achieved 30-million downloads across a whopping (and ever-growing) 560 shows. That catalog is nearly five times bigger than the next largest, which is WarnerMedia with 116 shows.
Podtrac notes that all but two publishers increased their monthly audience counts from February. The average audience size for the list was up 11% month-over-month, and +4% year-over-year.
Here are the lists: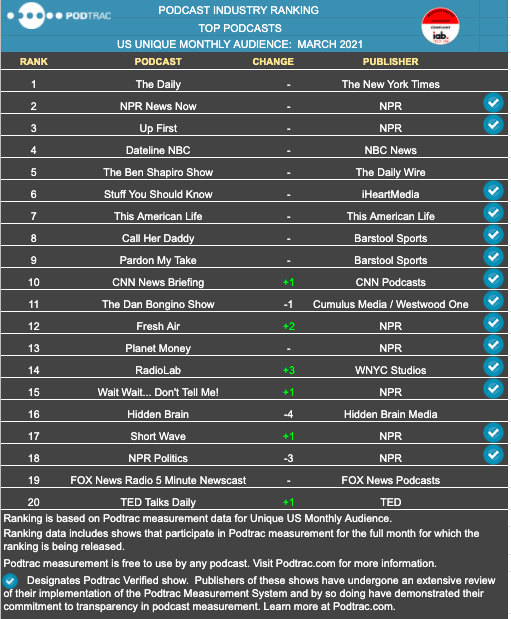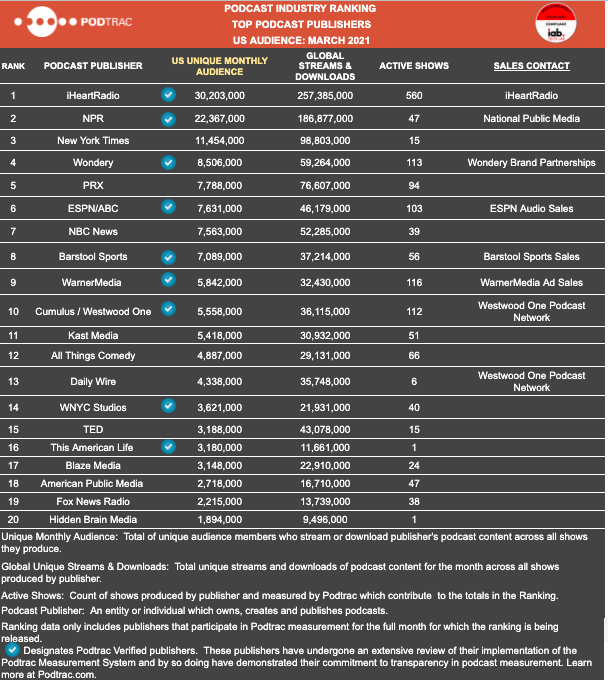 .