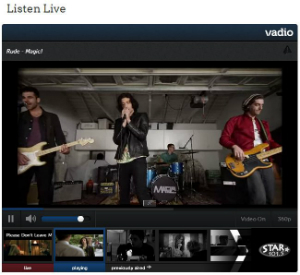 Last week Vadio, a video-technology platform, announced a partnership with Vevo, a music video portal. The deal gives Vadio access to Vevo videos, for inclusion in curated video streams that Vadio synchs up with radio station webcasts. Vevo embodies a catalog of 100,000 high-quality song videos, concert events, and original programming. The alliance allows Vadio to enhance its existing repertoire of videos from which it curates programming for radio stations and other clients.
Bryce Clemmer, CEO of Vadio, speaks of "the video revolution" and the "shift from streaming audio to streaming video." We talked to Clemmer to get more context.
"The Internet is a good thing. The question is how to maximize it for your audience." –Bryce Clemmer, CEO, Vadio
"YouTube is the largest destination in the world. The fascinating thing is, it's all video," Clemmer told RAIN, noting that YouTube is second only to radio as a music-discovery source. "From a macro perspective, everything is turning into a visualized experienced, in some form. Our hypothesis has been, every experience online is becoming visualized. It's the nature of the marketplace, and increasingly powerful technology. People want the more engaging content."
Although Vadio serves a range of clients — any platform that potentially hosts video is a potential client — AM/FM web streams are the core target, and how the Vadio startup got started. "Curation is the best thing that radio has done. In my opinion, you can't replace curation with algorithms," Clemmer told us.
Vadio works by putting a specialized video player on the public-facing side of a stations' website. Behind the scenes, technology enables a video presentation synchronized with the audio stream. Clemmer suggested Star 101.5 (www.star1015.com) as an example. Clicking the LISTEN button launched the player, started the stream, and turned the website's listening experience into a video playlist.
Installation requies an engineering resource, but is not heavy lifting, according to Bryce Clemmer. "We've created a turnkey, end-to-end tech solution for groups to evolve their audio platforms into engaging video experiences. Those experiences are based on whatever their streams are, and whatever their DJs are playing. The only thing that changes is that it's no longer simply audio. It opens up a lot of opportunity — more interaction, higher CPM rates, and user benefits."