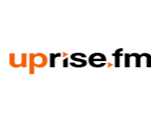 Uprise.fm is a forthcoming streaming site that aims to make rare, unique, and live recordings available in the digital space. The project, scheduled for launch in the U.S. and Canada in 2015, recently signed on Daniel Lanois as its creative director and chief music curator. In addition to a career as a solo artist, Lanois is a respected producer who has worked with U2, Bob Dylan, and Peter Gabriel.
In a statement, Lanois explained the importance of musicians' work touring, performing, and collaborating in the time between their studio releases. Those recordings are not as commonly found on streaming platforms, and Uprise.fm aims to give artists a place to share those tracks with fans.
Considering the frequent musician criticisms that artists don't get a fair deal out of streaming, it's little surprise that more musical celebrities are working on new services that do justice to both the creative and the business sides. For instance, Neil Young's passion project, Pono Music aims to get hi-fi recordings into the digital space.
Uprise.fm will probably target a similar niche of aficionados, and it's already positioning itself as a resource for musicians and music lovers. "It's time for a streaming service that is centered around and driven by the artist community directly," Lanois said in a statement.