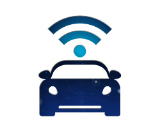 A new poll from Harris Interactive detailed the knowledge and preferences of prospective vehicle buyers about connected cars. Among those who were at least somewhat interested in owning a connected vehicle, 65 percent said they would prefer to have a built-in system. Only 35 percent wanted a brought-in approach of tethering their smartphone to the car. That's good news for the projects currently in the works at the tech leaders, such as Apple's CarPlay and Google's Android Auto, because they'll have a leg up in buyer interest.
For traditional broadcast radio, both a built-in or a brought-in approach to connectivity still pose a threat. Either one makes a mobile device the main source of media in the car, allowing drivers to access their streaming service of choice as well as their GPS or other driving tools from within a single interface.
However, getting more buyers to consider connected cars will require automakers to put more energy into promoting and explaining the services. Of the nearly 14,000 respondents, about 42 percent of respondents have heard about the vehicle systems but don't really know what they do. That could explain the results of the survey's main questions. Harris found that only 15 percent of respondents were either very interested or extremely interested in owning a connected car. Thirty-one percent said they were not interested in the vehicles at all.
Turning that sentiment around could simply be a matter of education. Ian Beavis, executive vice president of global automotive for Nielsen, told Radio World that the findings were a surprise given that 10 million connected vehicles sold in the U.S. last year, more than half of all new cars.