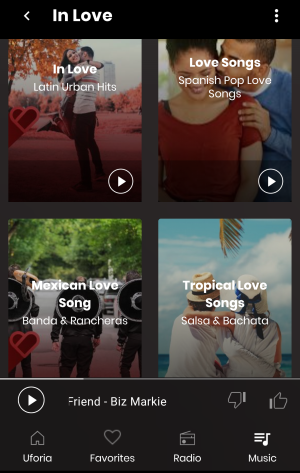 Napster and Univision have entered a new digital audio partnership centered on the Latin culture specialist's Uforia app for on-demand audio and music. Under the terms of the deal, Univision's Uforia app is now part of the "Powered by Napster" platform thanks to a new design and enhancements. The app provides profile registration and a simpler experience of listening to live radio, music playlists, and eventually podcasts in a single service.
"Audio is bigger and more exciting than ever, and we're thrilled to partner with Napster to jointly explore and redefine how audio content will be consumed in the future," said Jesus Lara, president at Univision Radio. "Univision works hard to authentically super serve all Hispanic listeners with the best music and audio programming and this partnership will enable us to deliver our audience an even better and more personalized experience."
"Napster's partnership with Uforia is a synergistic one as we join forces and work together to make Univision's Uforia app the ultimate destination for Latin music and audiences around the U.S.," said Angel Gambino, Rhapsody International's chief commercial officer. "Our joint collaboration with Uforia will deepen and expand Powered by Napster into the rapidly growing Hispanic market and the top streamed artists in the US. This partnership fuels our combined data intelligence to offer audiences highly personalized and finely tuned audio curation innovations that will engage Uforia listeners while giving brands an opportunity to more precisely target people with content."
We tested the new app, and found it to fulfill its PR promises. At registration, Uforia requested our preferences in Latin music, selecting three broad categories from an array of music types. Moving deeper into the app, we were offered playlist selections matching those selections. Further, Uforia presented a mood/activity tool for delivering playlists based on criteria like Happy, In Love, Optimistic, and so on.
We whipped through a playlist seeking to know whether there was a skip limit, and found it at six songs — a standard limitation in non-interactive internet radio. We did not encounter any commercials in our playlist listening.
You can allow the app to determine your location; when it does, you see a selection of local (or regional, in our case) broadcast radio streams.
Napster has deployed its white label music streaming service to the service of broadcast networks in the past, most notably in powering iHeartRadio's All Access on-demand subscription service.