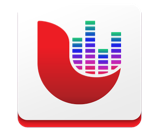 Uforia, the music app from Univision, has beefed up its offerings with several new features for Latin music fans. The free app now includes more than 25 playlists curated by mood, a car mode for safe music control while driving, and an alarm clock function. These new options build on Uforia's existing platform of more than 65 live radio stations, exclusives, and social interactions.
"We launched new features on our Uforia app tailor-made to our audience's passion for music and highly-digital lifestyles," said Mark Lopez, EVP and General Manager of Univision Digital.
"We've garnered more than 14.5 million audio streaming sessions per month, which is why we continue to build on our listeners' love of Uforia with a high-quality experience unique to them, as well as provide them the opportunity to listen all the music they want from their favorite artists whether in English or Spanish," Pepo Ferradas, president of Univision's Music division, said.