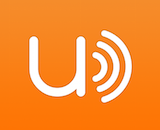 We're used to sitting down at our computers to skim the news, or maybe even going old-school with a physical copy of the paper. Umano aims to give an audio angle to that experience. The company supplies narrations of written web content.
Umano currently has parnerships with several online outlets, such as VentureBeat, Digital Trends, Forbes, and Entrepreneur, for access to their articles. It also has a crowdsourced angle, since listeners can submit stories to the platform. All the narrations link back to the original written posts, which the PR team said helped to drive new traffic to the original publishers. It also has an Umano for Writers program, that gives authors the chance to narrate their own work for the platform.
According to Umano's PR rep, the program has seen millions of downloads and streams, with engaged listeners spending an average of 40 minutes per session. The service's current content offerings are far from comprehensive, but Umano aims to fill an interesting niche somewhere between podcasts, news radio, and newspapers. It is available as a free app for iOS and Android, as well as a web player.