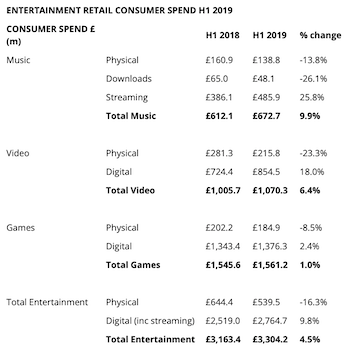 The Entertainment Retailers Association released its mid-year report on the UK entertainment industry. Consumers in the region spent more than £100 million per week on music, video, and games during the first six months of 2019 for a total of more than £3.3 billion.
Recorded music grew 9.9% over the first half of 2018, making it the fastest-growing sector in the ERA report. Subscription streaming was the main driver, growing 25.8% from the year-ago period to a total of £485.9 million. Thanks to that increase, streaming is nearly three-quarters (72.2%) of the UK's retail spending on music.
Both physical formats and downloads posted declines within the music total. The former saw first-half revenue fall 13.8% and the latter dropped 26.1%.