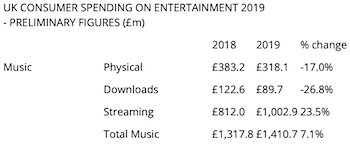 The Entertainment Retailers Association released its latest figures about streaming music consumption in the UK. The region surpassed £1 billion in spending on music streaming subscriptions during 2019 thanks to 23.5% on-year growth. The total has grown to four times the amount spent on subscription streaming five years ago.
The strong performance for streaming music offset losses from other music formats. Physical format spending fell 17% to £318.1 million and download spending dropped 26.8% to £89.7 million. Across formats, music saw 7.1% growth to £1.41 billion.
Demand for digital services helped drive the UK's overall entertainment market to 2.4% growth. The seventh year of consecutive growth brought total entertainment spending to £7.8 billion.