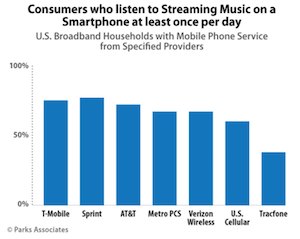 New consumer research found that 68% of smartphone owners listen to streaming music every day. The study from Parks Associates revealed that smartphone owners spend more time with their tunes than any other form of mobile entertainment, clocking in at 45 minutes per day with streaming music. In comparison, 71% of smartphone owners said they watch video every day, but only spend 24 minutes on average doing so.
The research found that Amazon Prime Music was the "most popular" of the paid streaming platforms, but that performance was likely so strong due to Amazon's bundle approach to the Prime membership program. "The streaming music war has intensified as the large connected entertainment companies are driving to consolidate their offerings," said Harry Wang, Parks' director of health and mobile product research. "Consumers are getting more music options as the competition for users escalates."
Parks also broke out streaming rates by mobile carrier. More than three-quarters of T-Mobile and Sprint respondents said they stream music daily. Both of those carriers have launched programs for improving the ease and technical demands of streaming, and the higher streaming rates imply that those efforts could be successfully attracting listeners.
These are timely findings, released in the same week as the Infinite Dial 2016 from Edison Research and Triton Digital. The Infinite Dial presentation also highlighted the seismic impact smartphones have had on music listening habits.