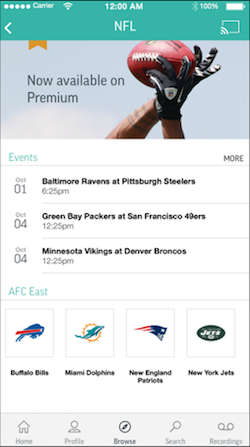 TuneIn announced a partnership with the National Football League to add football audio content to its Premium tier. The deal will give Premium listeners access to multiyear partnership with the NFL that will bring live play-by-play coverage of all NFL games from pre- to post-season to the subscription. The sports league will also bring a dedicated NFL channel to TuneIn and a special live analysis show on Sundays featuring analysis and statistics for all the games in progress that day.
"We couldn't be more excited to be adding the #1 domestic sports league to our offering, and we are thrilled that the NFL has chosen us to be their global audio distribution platform," TuneIn CEO John Donham said.
The Premium tier, which TuneIn added in August, has other sports-centric content from Major League Baseball, Barclay's Premier League, and Bundesliga.