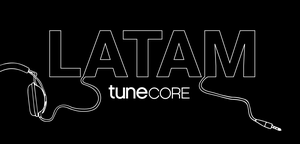 The Latin American (LATAM) market is an important and growing business for music services, so it makes sense that it would be for distribution to those services. One of the leading such companies, TuneCore, has announced its expansion into LATAM countries. TuneCore will serve artists in Mexico, Colombia, Argentina, Peru, Chile, Brazil, Domican Republic, Puerto Rico — plus Spain in Europe.
Latin America has, like the rest of the world, witnessed a substantial rise in the uptake of streaming services. TuneCore notes that in Colombia, for example, 60 percent of music industry revenue is now sourced from digital sources, almost triple what it was a few years ago. Likewise, in Mexico, a 2019 digital audio study by nPeople and NeuroMedia found that 57 percent of all music is listened to through streaming services.
TuneCore distributes independent music to a network of more than 150 digital stores and streaming services worldwide. More than a faceless distribution machine, the company boasts eight fully localized websites and 13 language options including Spanish, and pays out more than US $1 million to artists each day. Last October, TuneCore passed the $2 billion mark in revenue paid to artists.
TuneCore LATAM will be headed-up by Bruno Duque, who started his career at Sony Music in Los Angeles in the Latin Music Division before segueing into other areas of the industry. Before joining TuneCore, he was marketing manager at iMusica, the leading digital content distributor in Latin America, where he focused on licensing and label relations. For the past six months, he has been leading TuneCore Brazil and will now expand his purview to the wider region.
"Latin America is a region rich and diverse in music," said Duque. "Whether it is Puerto Rican reggaeton, Dominican merengue, Colombian cumbia, or myriad other genres, there is so much musical creativity going on in the region that not only deserves to be heard by a wider audience, but also deserves to generate revenue for the artists. As digital music and streaming services continue to grow across LATAM, TuneCore is ready to support independent artists to create larger audiences and long-lasting, sustainable careers."
.