Triton Digital shared data about changing radio consumption habits as the COVID-19 pandemic spreads. It compared data about AM/FM streams and station formats from March 6-12 with results from March 13-19.
In the second week, News/Talk content increased its share of streaming by format, rising from a 29% portion to 33%. Those gains came from music, which saw a corresponding dip in share from 64% to 59%. Sports kept a constant 8% between the two weeks.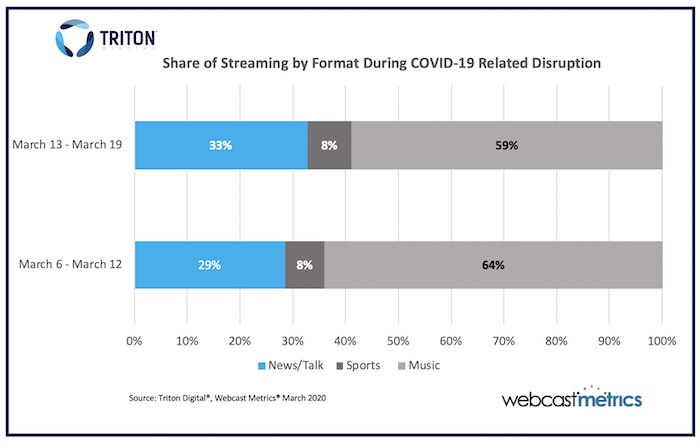 Although content saw some changes, devices held steady. The share for mobile devices edged up to 51% from 49%, while desktops and laptops dipped from 27% to 25%. Smart speakers kept a 21% share for the two periods.
"Radio in every form – broadcast, streaming audio, and podcasts – remains a trusted and relied upon medium for news and entertainment in the United States," said John Rosso, Triton's president of market development. "Despite the dislocation of many workers, this data shows the remarkable stability of the medium, as well as the importance of radio in delivering information in a time of crisis."