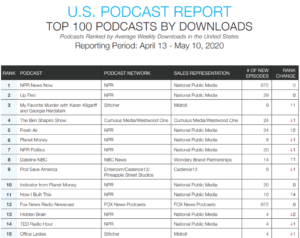 Triton Digital has released its latest U.S. Podcast Report, covering downloads and audience rankings for the 4-week period of April 13 through May 10. In this edition, Audioboom makes its debut as a Triton-measured podcast entity represented in the report.
These reports include two top 100 podcast rankers (one for show downloads, and one for show audience sizes), and two top-15 network rankers for downloads and audiences.
A few notable points:
Triton notifies us that new participant Audioboom placed 13 shows in the top-100 rankers.
NPR placed six podcasts each in the top-100 lists for downloads and audiences.
Five networks appear for the first time in the top-15 Networks lists: Audioboom, Bonneville Corporate, WaitWhat, Salem Communications, Prisa Radio.
NPR is the top podcast network publishers in this report, serving an average of 39,857,042 downloads per week across 52 podcasts.
The report is freely available HERE.