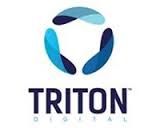 Triton Digital announced a new partnership for its a2x programmatic digital audio advertising exchange. The a2x platform will now integrate the TouchPoint DSP from dataxu, a software provider for marketing professionals. Under this arrangement, dataxu customers will be able to add online audio from premiere broadcasters, podcasters, and streaming music services to their programmatic omnichannel buys.
"We are proud to have dataxu integrated with a2x," said Benjamin Masse, Triton's managing director of market development and strategy. "We look forward to fueling the success of their buyers with the flexibility and enhanced targetability that is made possible through our transparent programmatic marketplace, and to increasing their reach through the addition of our premium audio inventory on connected devices such as desktops, mobile, and smart speakers."
"Triton Digital shares our passion for delivering state-of-the-art technology and services that maximize reach, minimize hassle, and generate meaningful revenue, which made our decision to integrate with them an easy one," dataxu's Director of Marketplace Ziggy Zografakis said.