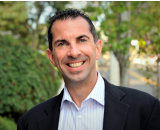 Townsquare Media released its Q3 earnings this morning in an upbeat conference call with investors. Townsquare CEO Bill Wilson (keynote speaker at RAIN Summit  Dallas in the September Radio Show) hosted the call. Chief Financial Office Stuart Rosenstein explained the deep-dive financials.
Net revenue for the quarter was up nearly eight percent year-over-year, exceeding expectations, with adjusted EBITDA spiking 12.9% (both numbers excluding political revenue). Accordingly, Townsquare has raised its forward-looking guidance from $98-100M to $100-102M.
TSQ stock is up 8% as of this writing, in the call's  aftermath trading.
Investors heard a big focus on digital, as has been the theme of the TSQ calls since Wilson was installed as CEO. The company's two main stand-apart digital businesses — Townsquare Interactive (digital marketing services for small businesses) and Townsquare Ignite (proprietary programmatic digital advertising platform) — were both projected to be $100M businesses in in two to four years. (This projection is not new, but was reaffirmed in the morning call.)
There was some investor interest in Townsquare Interactive, its potential growth and addressable markets. It's important to remember that Townsquare operates its radio stations — and most of its stand-alone digital business — in small-to-mid markets outside of the top 50. That differentiator is key to the company's competitive posture. Bill Wilson noted that Townsquare now serves 10,000 clients (small and midsize businesses, or SMBs) with the Interactive service, in an addressable market of 500,000 SMBs within the regions where Townsquare has radio stations. Outside of those regions, about five-million SMBs fit the company's client profile, according to internal research using census information and business profiling sources.
As if to emphasize the intense digital focus, Townsquare continued rolling up its live event business, which is now mostly discontinued.
"2019 is turning out to be a transformative year for Townsquare Media," Bill Wilson said.