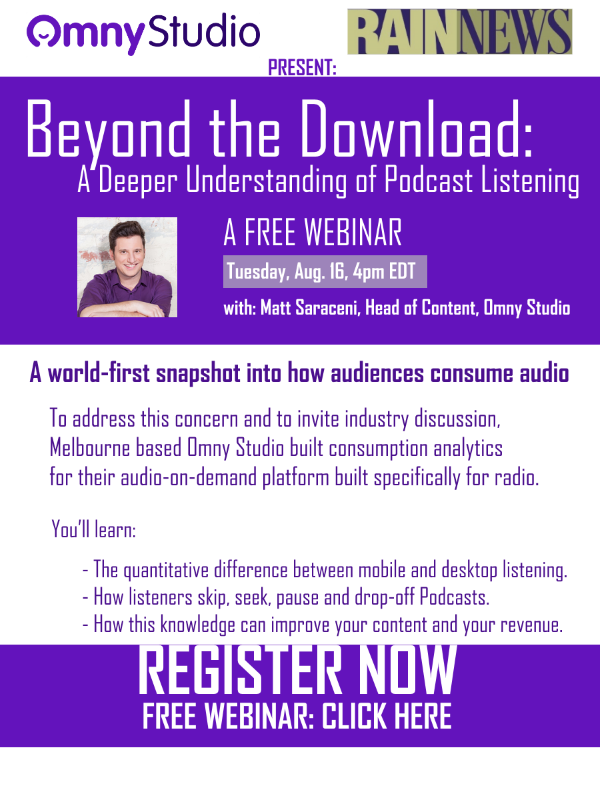 There are still a few hours left to register for today's free RAIN/Omny webinar, Beyond the Download: A Deeper Understanding of Podcast Listening. Matt Saraceni, Head of Content at Australia-based Omny Studio, will present the first look at new podcast consumption metrics.
This morning we learned that Omny is also planning an important announcement that Matt Saraceni says is "a game changer." RAIN News does not have details or a press release yet, so we will learn what this is about at the same time as webinar attendees. (CLICK HERE to register.)
"Apple commands 80% of Podcast listening, so what we're going to announce is going to be a game changer," Saraceni told us, the implication being that Omny has worked out a way of shining some light into the black box of podcast listening in the Apple Podcasts app, which is the consumer end-point of most podcast listening. Apples dominance and lack of feedback to podcast creators is the notorious sticking point that prevents third-party audience measurement from getting off the ground.
This is a webinar we wouldn't miss, even if we weren't co-producing it! Start time is 4pm ET today. Click the image to register to get a virtual seat at this free event.