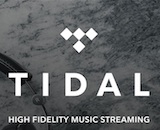 Tidal is continuing its efforts to get more musicians on board with its premium streaming service. The latest plan is for a new feature called Discovery that bypasses the third-party distribution model for independent artists. Instead, those musicians will be able to directly upload their tracks to Tidal.
Chief Information Officer Vania Schlogel talked to Smashd about the Discovery service. "When it comes to the distribution of music, I want to get a point where there are no blockades for artists in order to be able to easily do that for themselves," she said. Discovery will offer an artist dashboard that shares data directly with the performer. Tidal is also promoting its choice to pay all record labels 62.5% rates, whereas many others pay less to independent labels than to the majors.
Tidal also announced that it would highlight up-and-comers with a feature called Tidal Rising. Both of these new announcements could help to alleviate the accusations that Tidal is simply an exclusive club for Jay-Z and his already-successful friends. The service has taken some heat from independent musicians, but we'll have to wait and see if these steps are enough to change minds.