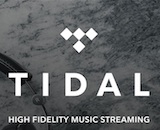 Hifi streaming service Tidal announced a new partnership with by:Larm, which runs a music festival and conference on March 4-7 in Oslo. As a result of this deal, Tidal will present the international section of by:Larm's artist program. Tidal and WiMP's editor-in-chief Sveinung Rindal will also hold a session during the conference focused on how others can take most advantage of streaming services.
"The partnership with TIDAL enhances our international profile and it is great for Norwegian acts to have a boost on the world stage like this," Rindal said of the deal.
Tidal is one of the latest hi-res music streaming systems to hit the U.S. You can see our review here.