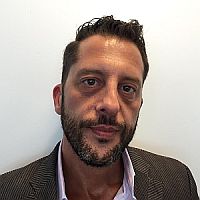 Leading spoken-word platform audioBoom announces today that Thomas Mancusi is taking the newly created position of Vice President, Sales and Development. In this job, Mancusi will develop premium marketing campaigns around audioBoom's most successful and high-profile programs.
Thomas Mancusi is moving from radio to online audio. It is not the first time he has crossed that fence: He started at CBS New York in 2010, and joined PodcastOne a hear and a half later as National Account Director. From there, Mancusi went back to CBS two years later as manager of on-demand sales, working with the Play.it platform — an on-demand listening portal which features CBS programs and externally produced shows. IN that job Mancusi worked with well-known programs and personalities including Adam Carolla, Steve Austin, Kathie Lee Gifford, Chris Hardwick, Boomer Esiason & Craig Carton, and Carson Daly.
Curating and packaging content is part of the creative sales position, accord to Stuart last, Senior VP of Americas for audioBoom. "Thomas is a creative ad sales executive who can curate our top content offerings to build highly targeted, personalized campaigns," Last said. "We are delighted to welcome Thomas to our team and excited about the opportunities he will create for our advertisers."
We can get a clue to Mancusi's strategy in his reference to the traditional trust equation inherent in podcasting, where host-read sponsorships carry the weight of endorsements to an audience which has invested engagement and loyalty in the program and its personalities. "With customized sponsorships, personality endorsements and live reads, advertisers can tap into the connections these magnetic personalities and brands have with their audiences," Mancusi said in a statement.
He'll have a lot to work with. AudioBoom presents nearly 8,000 channels of content serving more than 35-million plays each month.