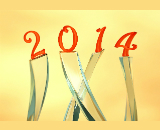 Streaming audio is a many-faceted industry. At RAIN News we observe, report, and analyze ongoing narratives pertaining to many aspects of online audio — business models, user interfaces, revenue metrics, audience growth, legal wrangles, and many more. What catches the interest of our readers? Website traffic metrics tell a big part of the story, and that's the lens we're using here.
Here are some of 2014's most-viewed articles:
Battleline drawn: SoundHound/Spotify vs. Shazam/Rdio: Music-tagging apps don't get much media play, despite their rampaging popularity. We think they play crucial roles in the streaming ecosystem, and we're intrigued by the competitive thrust-and-parry of the two market leaders, Shazam and SoundHound. (Latest: SoundHound relaunches app, and Shazam upgrades app.)
Where is the AM/FM radio in my new car?: This guest column from Saga exec Steve Goldstein, which hooks into the plight of broadcast radio in digital dashboards, was published in May. It has remained a popular read. (More recent: Edison Research's "Share of Ear" in the car, and also see: Borrell: Digital dashboards will wipe out half of FM stations.)
Hi-rez streaming: Two articles about streaming music quality placed in the top five most-read posts. Senior Writer Anna Washenko reviewed hi-rez music service Tidal to see whether the lossless sound quality was worth the higher subscription cost. And we reported that Rdio upgraded the sound quality of its entire catalog.
Nielsen announces how it will measure radio streaming: In the realm of radio ratings, two companies dominate: Nielsen for terrestrial, and Triton Digital for webcasting. Nielsen has promised to bring its own webcast measurement product to market, and this April story drew intense reader interest. (Latest: Nielsen Audio reportedly targeting mid-2015 for streaming ratings.)
iHeartMedia proposes reducing webcast royalty rates by 80%: Music licensing is an important issue for both pureplay and radio webcasters. iHeartMedia submitted its argument for lower (much lower!) royalty rates to the Copyright Royalty Board in the U.S., which will determine a new royalty scheme by the end of 2015. (See also: Pandora proposes lowering music royalty rates based on "steering" in its Merlin agreement.)
New research on digitally native music consumers: Our readers love metrics, especially when they forecast the future. "Digital natives" are young consumers who don't know a world without online connectivity and streaming audio. Their behavior hints at future versions of the industry.
Beats Music royalty statement leaks subscriber and royalty figures: This was back in May, just as Apple was acquiring Beats Electronics, including the music service. The worth of that acquisition remains an open question. (More recent: Beats Music will be standard in iOS in 2015.)
Bette Midler's rage against the stream is a case study in confusion: This Editor's Notebook piece from April critiqued Ms. Midler's public outburst against streaming royalties. 2014 was the year of such outbursts from high-profile musicians. Recently, calmer voices have sought to reduce confusion and provide helpful guidance to musicians. (See: Ed Sheeran: Spotify is paying the right amount.)