The Infinite Dial, a large-scale research survey of consumer media usage in its 22nd year, was unleashed today by Edison Research and sponsor Triton Digital. Triton is newly involved in the project, replacing former partner Arbitron. As in past years, The Infinite Dial 2014 was unveiled in a multimedia webinar hosted by Edison's Tom Webster and Triton's Mike Agovino.
The study examined use of mobile devices, and put it in long-term perspective with results from past years. The broad story of smartphone adoption is unsurprising but impressive: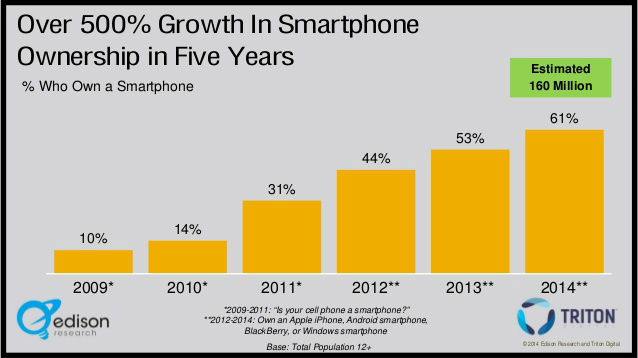 Youth dominates the adoption picture, with 78% of the 12-24 group owning a smartphone; that drops to 68% for 25-54, and 36% for the over-55 population. There is three-year growth in all demographics.
Looking at brand traction in mobile devices, The Infinite Dial provides this chart of most-downloaded listening apps: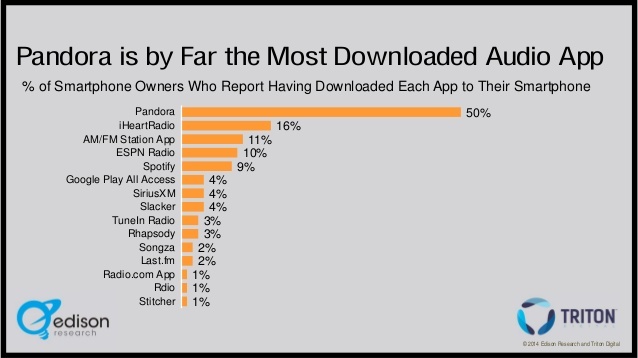 The study also dug into a trend we've been watching closely on RAIN News: the role of music-identification apps like Shazam and SoundHound. The survey found 39% of people with familiarity of those two brands, and 18% percent who had downloaded one or both.
Not to ignore tablets, the study documented the three-year growth pattern of those larger mobile and semi-mobile devices: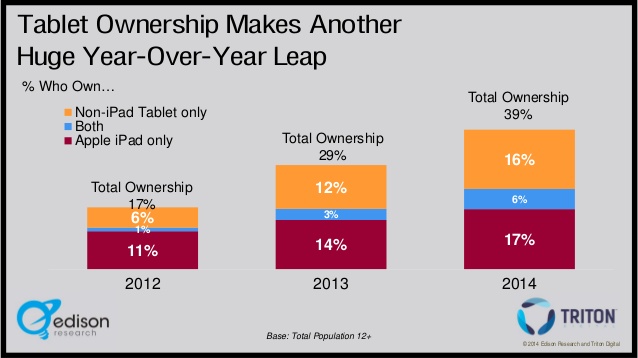 In concluding remarks, Tom Webster of Edison Research had this to say about the role of mobile in America: "Mobile devices are rewiring behavior, and the conversation about them should be a behavioral conversation, not a device conversation."