The Infinite Dial, a large-scale research survey of consumer media usage in its 22nd year, was unleashed today by Edison Research and sponsor Triton Digital. Triton is newly involved in the project, replacing former partner Arbitron. As in past years, The Infinite Dial 2014 was unveiled in a multimedia webinar hosted by Edison's Tom Webster and Triton's Mike Agovino.
The main line of research inquiry for in-car listening to online audio was the growth of the most basic type of in-car connection: Plugging a smartphone into the dashboard. The Infinite Dial found the continuation of a five-year growth trend: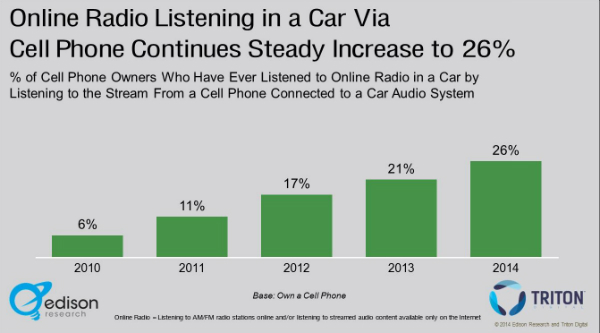 As with the general growth of online listening, younger demographics engaged in smartphone listening in the car more than older segments of the population. 43% of the 12-24 cohort had done it.
Within the in-car segment of The Infinite Dial, consumer sentiment toward advertising was queried. Asked whether "commercials are a fair price to pay for free audio content," 80% replied Yes when the question was applied to AM/FM, and 75% when the question was about Internet audio. In both cases the respondent population consisted of those who listened weekly to AM/FM and online.