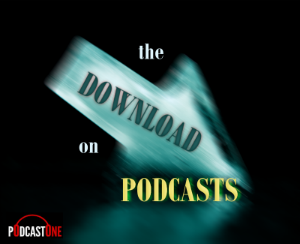 The Download on Podcasts is a weekly feature sponsored by PodcastOne.
---
In an audio category as wide-open as podcasting, there are many ways to slice it into sub-categories. There are topical divisions — comedy, news, food, business, etc.. There are network silos, as in television, all the more as new networks appear on the scene in rapid-fire. And there is archived radio programming rubbing up against Internet pureplay podcasts.
One bifurcation of the podcast content market illuminates a new level of professionalism that marks the podcasting resurgence of the last couple of years: Informal chatting vs. highly produced infotainment shows.
Podcasting grew out of personal blogging a little over 10 years ago, and was tied to the mechanics of blog distribution via RSS feeds. As an audio version of personal journaling, which was the default definition of pre-professional blogging, the programming was heavy with hyper-personalized, unscripted, untargeted talk shows that might be termed chatcasts.
Chatcasting offers an exceptionally low barrier to entry. That was true a decade ago, and is much more true now, with phone apps that make producing a personal audio program as easy as making a phone call. (Not that smartphones are primarily about making phone calls, but you get the drift.)
One of the archetypal early podcasts which opened many ears to the pleasures of on-demand audio blogging was The Dawn and Drew Show, still in production today. Completely unstructured, slightly racy (though positively Amish compared to today's blue comedy shows), daringly personal, the show has subsisted for all these years on great conversational chemistry.
Looking at today's iTunes podcast chart for all categories, a generational shift from old-style podcasting to new-style podcasting is apparent. The entrance of public radio programs into the field has obviously had a tremendous effect. This American Life, Radiolab, Serial, Fresh Air and several others dominate the chart, and have played an important role in migrating ears from broadcast to time-shifted on-demand programs. Norm Pattiz, founder of PodcastOne (sponsor of this weekly column) recently said "Podcasting owes Serial  a debt of gratitude that can never be repaid." He meant that the impactful Internet-only show produced by This American Life (which is currently the #1 iTunes-ranked podcast)
Dawn and Drew do not appear in the iTunes top-100 for All Categories. In that list, Marc Maron's WTF show is the top-rate (#8) program that might be categorized as a chatcast — although the weekly interviews take the show out of pure chatcasting. At #17 we see The Giant Beatcast, a group chatcast featuring the staff of Giant Bomb, a leading videogame site. Joe Rogan (#26) is in a similar mold as Marc Maron. Bill Burr's Monday Morning Podcast (#32) is a solo chatfest.
The bifurcation of chat and non-chat in podcasting could be perceived as an amateur/pro division, but it doesn't need to be. Certainly, the chat stars listed above are professionals. With open hosting platforms like audioBoom and SoundCloud offering monetization options, anyone can make a buck or two while trying to crack the iTunes bigtime list. The beauty of personalized podcasting to advertisers is the "intimacy and trust" equation, which works particularly well when hosts turn ad copy into personal testimonials, driving engagement in direct response campaigns.
All this brings up an idea, and a suggestion for iTunes: Create a category for chatcasts. Podcasting is not all about topics, especially for shows that roam entertainingly across existing categories.