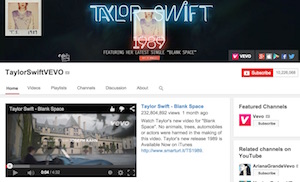 When Taylor Swift and her label chose to remove the pop singer's latest album and back catalog from Spotify, they unintentionally sparked the emergence of some fascinating data about online music listening habits. First came Nielsen's discovery that Swift's YouTube streaming counts ballooned from the moment her audio streams dropped. Second, we now have data showing that she added the most subscribers on the video network during November.
Numbers from OpenSlate revealed that Taylor Swift had 152% month-over-month growth in YouTube subscribers. That's more than 819,000 new listeners who tuned in for the same month that her music disappeared from Spotify.
Granted, we're still in hazy territory for correllation/causation with the spike. Swift surely would have seen a boost in subs following an average album release. But would it have been so high without the Spotify loss? Considering the first music video for the "Shake It Off" single hit the web back in August, and the full album debuted in October, the timing points to Spotify playing a considerable role in the skyrocketing of her audience size.