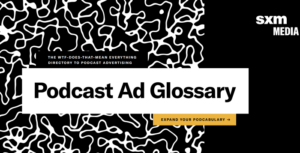 We spotted SXM Media's new Podcast Ad Glossary, and took it for a spin. It's a free document which offers to "expand your podcabulary." It contains 35 main terms and several more bundled into them — for example "ad format" bundles "announcer-read ad," "client-provided ad," "host-read ad," and "pe (personal experience." The free PDF can be downloaded HERE.
As a knowledge resource this glossary is basic, trading comprehensiveness for simplicity and ease of use. Helpfully, the glossary terms are separated into parts which represent ad campaign development: Planning, Creative, Measurement, and Bonus.
Each section includes a promotional blurb for SXM Media, the consolidated digital audio advertising marketplace of SiriusXM, representing Stitcher, Pandora, AdsWizz, and Simplecast. So, for example, in the Planning section, there are two advertorial sidebars:

We enjoy the pronunciation guides below all the terms, as in: "script /skript."
The package is handy and manageable in size; as such it is necessarily missing some useful terms. We couldn't find the words "attribution" or "standard." But we did learn about "murderino" and "pod snobs," which was fun.