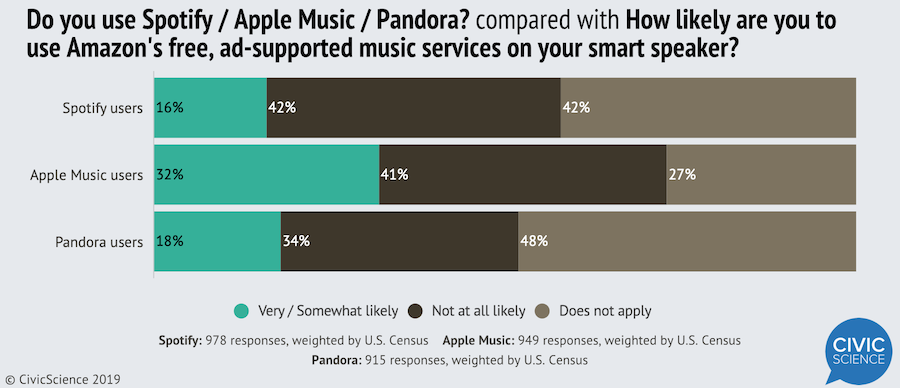 Smart speakers present a potentially valuable new option for music services to reach listeners. The space poses a particular interest for tech firms operating in both hardware and software, since they can create brand loyalty within audiences who will buy their devices and then continue to provide revenue as subscription listeners. For instance, Amazon and Google, two of the market leaders in the United States and globally, have launched free or low-cost access to music on their smart speakers. Civic Science surveyed interest from listeners in these smart speaker-specific streaming plans and which streaming services stand to lose the most ground to them.
For people who already own Amazon Echo or Google Home devices, there was a solid interest in using free music services from those companies. Forty percent of Echo owners said they were very or somewhat likely to use Amazon's free, ad-supported music streaming on their device; for Google Home owners, the rate was 45% likeliness to use a free Google service.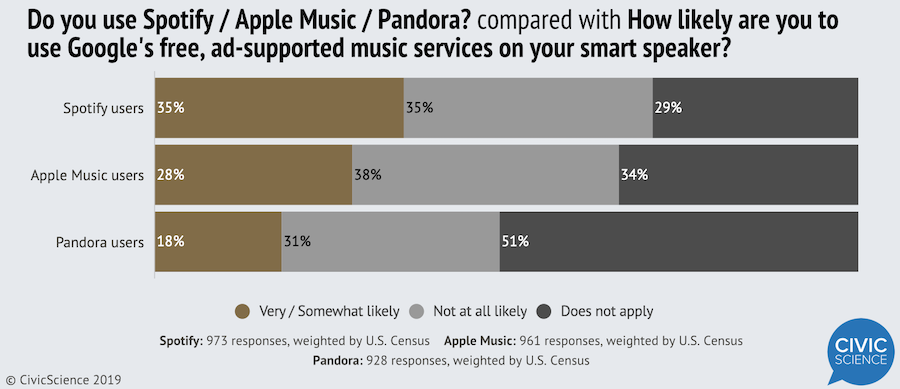 Intriguingly, the interest in Amazon and Google's smart speaker subscription streaming varied across the audiences for different audio platforms. Interest in Amazon's free, ad-supported music service on a smart speaker was 32% among Apple Music users, compared with 18% for Pandora users and 16% for Spotify users. When asked about Google's free, ad-supported music options on smart speakers, Spotify users had the highest rate of interest at 35%. Apple Music users had a 28% rate and Pandora users had 18%.