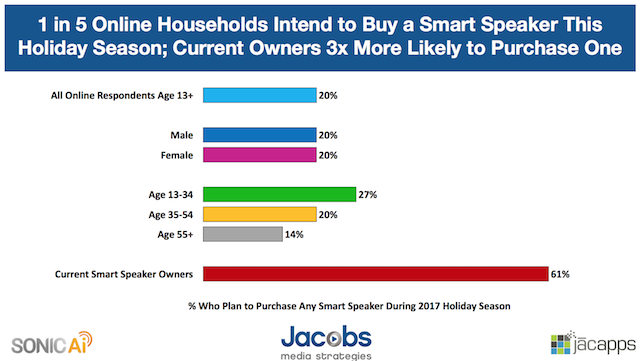 With the holiday shopping season now upon us, the top tech toys are in position to make a lot of sales. The smart speaker niche seems likely to be a strong performer at the end of 2017. Jacobs Media Strategies, jācapps, and Sonic Ai have collaborated on a survey into consumer sentiment toward voice-activated smart speakers going into December.
Among the respondents, 18% already own at least one smart speaker. The highest ownership rate is among the age 13-34 group at 25%. Devices running the Amazon Alexa represent the bulk of those, with 11% owning one. Of the Alexa device owners, nearly half (45%) have at least two skills enabled, but 31% said they didn't have any skills enabled.
Finally, the survey asked about intent to purchase a smart speaker this holiday season. Across the whole audience, 20% say they plan to make a purchase. That rate rises to 61% among current smart speaker owners.