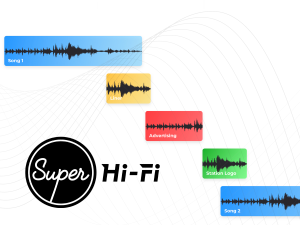 If genius is in the details, Super Hi-Fi is celebrating a moment of genius success: one-billion "audio stitches" — transitions between songs, mainly. The company's AI tech creates smart and smooth segues between songs, meant not only to eliminate gaps in listening, but to create what Founder/CEO Zack Zalon calls "tapestries of emotional listening."
As users of Spotify's cross-fade feature, which (sometimes dissonantly) bridges the segues, we welcome a more graceful and intelligent solution. 
"The future of streaming music is more than just playlists of songs with long gaps of silence," says Zalon. "We're using advanced technology to create very human experiences … our goal is to delight our customers and their listeners, and this milestone certainly indicates that we're on the right track."
The so-called Magic Stitch technology is deployed on Sonos Radio, iHeartMedia, Peloton, napster, and has partnerships with Universal Music Group, The Associated Press, and TargetSpot.