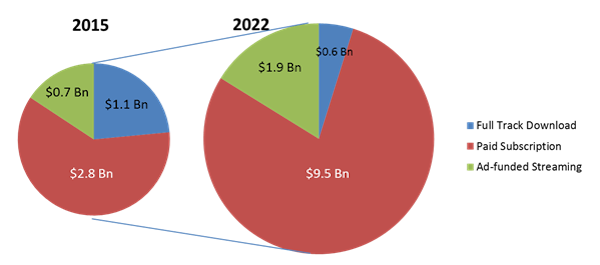 Streaming is projected as the source of nearly all mobile music by 2022, according to new research from Strategy Analytics. The latest report pegged streaming as 76% of the mobile music market in 2015, and estimated that the share would grow to 95% by 2022.
Paid subscriptions are anticipated to contribute $9.5 billion to the global mobile music market in 2022, while ad-supported streaming revenue is estimated at $1.9 billion. In contrast, track downloads are only expected to provide $600 million. Despite the larger revenue contribution of paid streaming, Strategy Analytics projected that ad-supported streaming will continue to have the bigger audience through 2022.
"On the demand-side the growth in mobile streaming is being driven by increasing consumer demand for anywhere and anytime access to tens of millions of tracks via streaming music services…Furthermore, the ability to store tracks for listening in offline mode has become an option that appeals to consumers in markets where networks may be patchy, or data cost high, or data allowance low," said Nitesh Patel, Strategy Analytics' director of wireless media strategies.