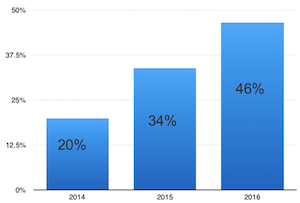 Merlin, a digital rights agency for independent labels, has released the results of its 2016 member survey. Digital income supplied a majority of overall business for 62% of respondents, up from about half of the respondents last year. In fact, digital generates more than 75% of overall business revenue for one in three respondents. The 2016 performance follows on the results from 2015, where digital saw a turning point in its value delivered to members. Additionally, 74% of respondents said their total digital revenue increased from year-end 2014 to year-end 2015. On the whole, digital revenue paid to Merlin labels increased 73% to $232 million year-on-year.
Streaming is a core element in the digital growth, and was the dominant source of digital revenue for 46% of responding members. That result marks an increase from 34% in 2015 and 20% in 2014. Thirty-nine percent said their audio streaming and subscription revenue increased more than 50% between the end of 2014 and the end of 2015; 15% said that segment's revenue increased 100% from one year to the next.
Streaming volume also rose. In March 2016 alone, Merlin members' audio tracks were streamed more than 4 billion times. The volume of audio streams reported to Merlin by "leading music services" rose by 80% between March 2015 and March 2016.