Media-buying platform Strata released results of its 4th-quarter agency survey. (See infographic results here.) As a multi-channel buying platform, not all results pertain to audio, but even broad questions and responses offer some directional guidance that can be connected.
One audio-specific question queried agencies about their level of interest in streaming radio advertising. Responses indicated a sharp rise of 48% of buyers more interested in streaming audio advertising than in the year-ago survey. (Note: RAIN News has produced a whitepaper called The Streaming Audio Marketplace, a strategic overview of the online advertising market. Download a free copy here.)
The interest in streaming was part of a broad question of digital advertising, where four out of five agencies expressed increased interest in going digital. Display, search, social, and mobile (the last of which can encompass the other three) received most of the buying intent in this survey: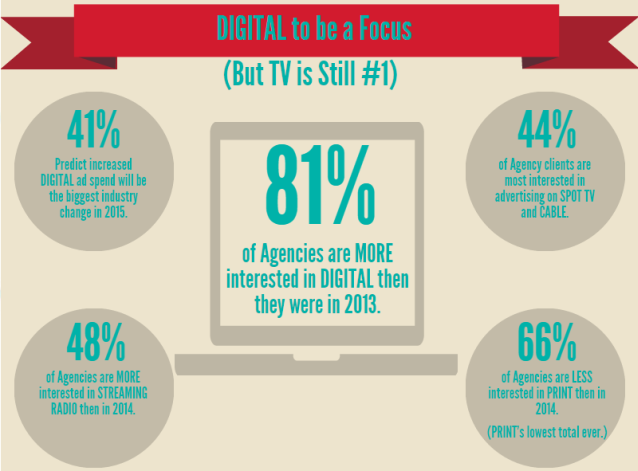 Streaming video caught a 58% rise in buying interest.
Following up on a Strata survey dedicated to measuring sentiment about programmatic advertising, which revealed growing agency interest and trust, the Q4 canvas broke out sentiment and intent:
Thirty-seven percent of agencies plan to conduct 10-20% of their buying via programmatic
Only 23% of agencies do not use programmatic at all — that is the lowest number in Strata's survey history
Twenty-four percent of agencies "trust programmatic buying to accurately execute their ad orders"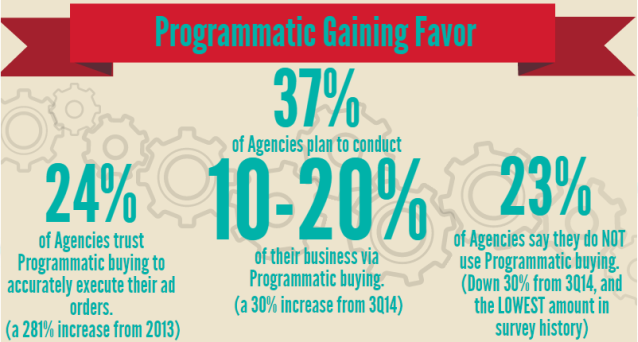 The trust issue is an influencer in the growth of programmatic advertising across media channels. The 24% trust figure in this survey seems low, but represents a 281% increase from the 2013 survey. Agencies cited "Quality of Inventory" as the greatest fear of programmatic. Agencies also don't always know where the inventory comes from. Complexity was another factor which holds back agency buying.
The programmatic survey results should be applied to the whole multi-channel spread of Strata's platform. There is no break-out of programmatic audio, but in most respects, audio adoption of programmatic lags website display by several years, and lags video programmatic somewhat as well.