Podcast content and advertising company Stitcher partnered with signal Hill Insights to study podcast ads. the study premise was to examine how "brand lift" is best accomplished in podcast advertising — via host-read performances or announcer reads that can be distributed across shows. (It's free; get it HERE.)
To start with the conclusion, the study found that host reads, which often are more evangelical and include the personal recommendation of the host to the audience, work better.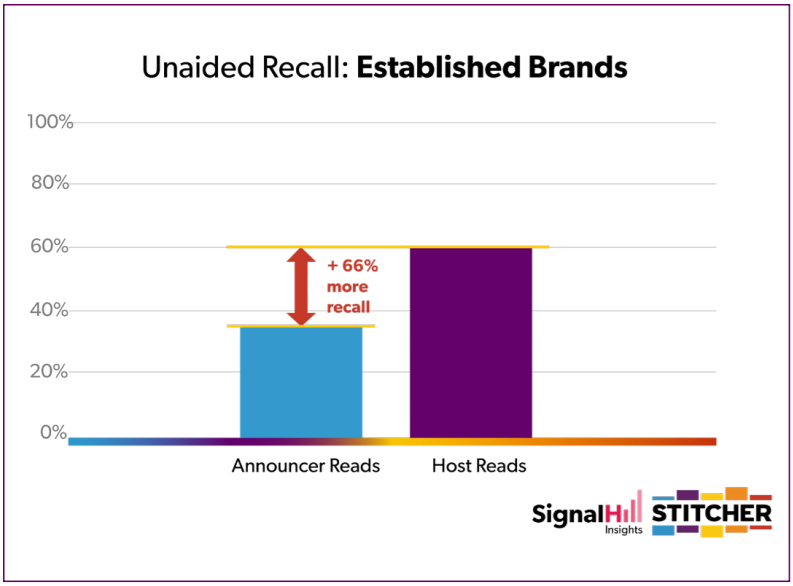 But the report emphasizes over and over, as if to prevent dissuading advertisers which prefer the predictability of announced spots, that all podcast advertising works. The report is titled: "Podcast Ads Perform, Host Reads Outperform."
Methodology: an online survey of 692 participants; four different brands; various controls in place; a post-listening survey of what participants recalled about the brands.
"An effective ad campaign is bigger than one ad read, and no single study or method can capture every aspect of performance over the life of a campaign."
The report shies away from a blanket recommendation of host reads in all campaign scenarios: "Both announcer-read and host-read ads have their place, and each can play an important role in a well-designed campaign. Moreover, there are shows where only host-reads or announcer-reads are on offer, and we would never advise counting a podcast out based on that factor alone."
.