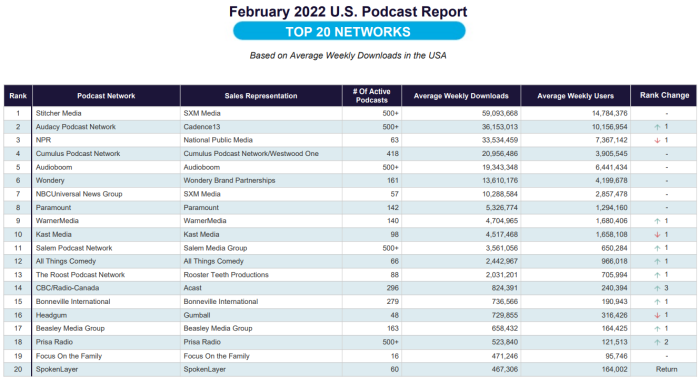 Triton Digital has released the February edition of its U.S. Podcast Report, and we see Stitcher in the #1 slot as with the previous report. Audacy (#2) and NPR (#3) switch position from the previous month. The placements are based on average weekly downloads.
Important to point out that Stitcher and Audacy both are represented by over 500 active podcasts, while NPR 's top-3 placement is based on an active catalog of 63 shows.
The report includes top 100 podcasts measured by downloads. In that ranking, NPR Now is atop the heap based on measuring 671 new episodes during the reporting period. Stitcher's podcast Last Podcast on the Left debuts on this ranking at #7 — eight episodes dropped in February.
Other new entries in the top 100 are Ten Percent Happier with Dan Harris (Wondery), The Deck (Stitcher Media), and The Rich Eisen Show (Cumulus Podcast Network).