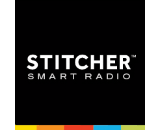 Stitcher announced the debut of two new shows on its podcast network. The first is Unladylike, a project from the duo behind the popular show Stuff Mom Never Told You. Cristen Conger and Caroline Ervin will focus this program on "what happens when women break the rules." Weekly episodes begin on January 23.
Who Is Franklin Jones? is the second show. Host Jonathan Hirsch delves into the life of spiritual guru Franklin Jones in the documentary series. The seven-part show also explores Hirsch's efforts to understand the community he grew up in. The premiere is February 28, and Stitcher Premium subscribers can listen to episodes one week in advance.
Stitcher Premium has also added three new shows: Jessamyn Explains It All from yoga instructor and writer Jessamyn Stanley; Ask Mimi, a live-taped spinoff of The Sporkful featuring food critic Mimi Sheraton; and the previously announced collaboration with Marvel for scripted podcast Wolverine: The Long Night.