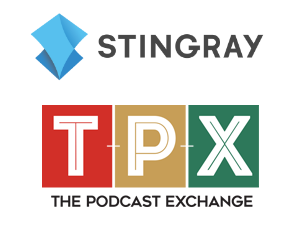 Montreal-based media and technology company Stingray is entering the Canadian podcast market with a 30% acquisition of The Podcast Exchange (TPX), Canada's leading podcast ad sales and production house. TPX is based in Toronto.
Finances of the deal are not disclosed.
Stingray is a multi-pronged content and tech company operating audio, video, and radio properties direct to consumer, and with B2B white-label products. The company also has a live events business. The company owns and operates 100 radio stations across Canada, and a selection of Ultra HD 4k TV channels.
The announcements hints that Stingray might develop a portfolio of wholly owned-and-operated podcasts. In general, the vision expressed by this deal is ambitious: "Stingray's investment in The Podcast Exchange will provide Stingray and Stingray Radio with a toehold in the fast-growing ad-supported podcast market thus supplementing our radio and digital audio products," said Eric Boyko, President, Co-founder, and CEO of Stingray. "This strategic investment is a bold move to show our continued commitment to deliver new and innovative content to Canadian consumers and brands. Having the means to deliver music, radio, and podcasts to listeners will pave the way for Stingray's market position as Canada's only true 'Audio Everywhere' provider."
"This strategic investment will support TPX growth plans in media sales and launch our content production and consulting offerings in 2020," said Jean-Marie Heimrath, Founder and CEO of TPX.