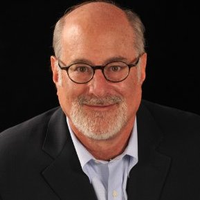 Steve Goldstein's Amplifi Media works with media companies and podcasters in developing audio content strategies. Goldstein writes frequently at Blogstein, the Amplifi blog.
---
It's hard to know anything about the future with certainty these days. Many are predicting a slow road back to normalcy. And what will be normal? Will small businesses make a sudden comeback? Will we sit in restaurants near other people right away? Would you go to a baseball game? Could the virus mutate for a second wave? Sorry, that's dark, but far from out of the question.
I have read a slew of media related "it's not the same" articles with some fascination. Of course, it's not the same. Driving down the street is not the same. Parks and beaches are closed. The Chinese takeout restaurant is closed.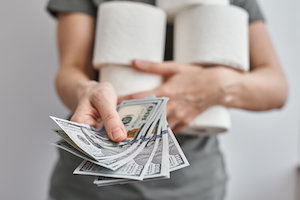 Let's see if I can summarize: Commutes are now a matter of steps so podcast downloads and listens are off. Morning drive radio is getting whacked hard. Netflix is way up. The Evening News is at levels not seen since Walter Cronkite. Sports radio and sports podcasts are talking about who knows what. ESPN is airing celebrities playing video games. Disney + hit 50 million global signups and is years ahead of projections. News podcasts are up a lot, true crime is down a lot. Recording podcasts from closets is off the charts. What's a radio traffic reporter to do? Millennials are watching linear TV. Daytime TV is up sharply. Facebook is way up. YouTube is up. Offices are dark, so adult contemporary radio stations are getting hit, but classic rock is up. Zoom is up from 10 million to 200 million users. Local TV news is surging, the cruel irony is advertising is soft. Speaking of soft, toilet paper is hot on what seems like a blackmarket. Many will even use single-ply. Classic sitcoms are binging. Puzzles and game shows are comfort food. Quibi, what's Quibi? Well, it's a brand new video service rolled out in the middle of a pandemic. Yikes. On the other hand, video game consoles, connected TV's and sticks are surging. If you have kids, alone time is non-existent. Wayfair says revenue growth doubled as people buy furniture for their work at home setups. At least one Wall Street analyst has downgraded Spotify – less engagement. Alexa up with at home use of smart speakers. Air travel has fallen to 1954 levels.
Midia Research in a post last week called it "The New Era of Pandemic Programming."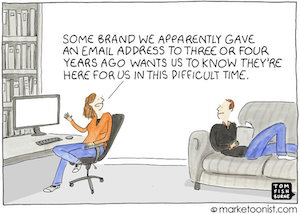 Advertisers have pivoted to warm messages of hope. I share the Marketoonist Tom Fishburne's sentiment – I am grateful that companies I barely have a relationship with have stopped emailing regarding "how they are here for me."
Assuming this goes on for a while, fatigue is likely to set in. Maybe it already has. I noticed NBC's Today Show reverted back to their regular color scheme last week and started integrating non-corona content.
So when does all of this bounce back to normal? A better question may be what will the new normal look like.
New York Governor Andrew Cuomo talking about the plateau of horrible stats over the weekend quoted Winston Churchill:
"Now This Is Not The End. It Is Not Even The Beginning Of The End. But It Is, Perhaps, The End Of The Beginning."
For now, content producers must focus on these 3 C's: Connection, Comfort, and Companionship. But don't forget about the big "R." It's brewing. We all need Relief. SNL and late night shows are back, and I've started hearing people say they need a break from it all.
Habits and routines are upside down and sadly they are unlikely to return to "normal" for a long time.
When traffic reporters have something to talk about, you'll know we are getting closer.
Stay safe please.