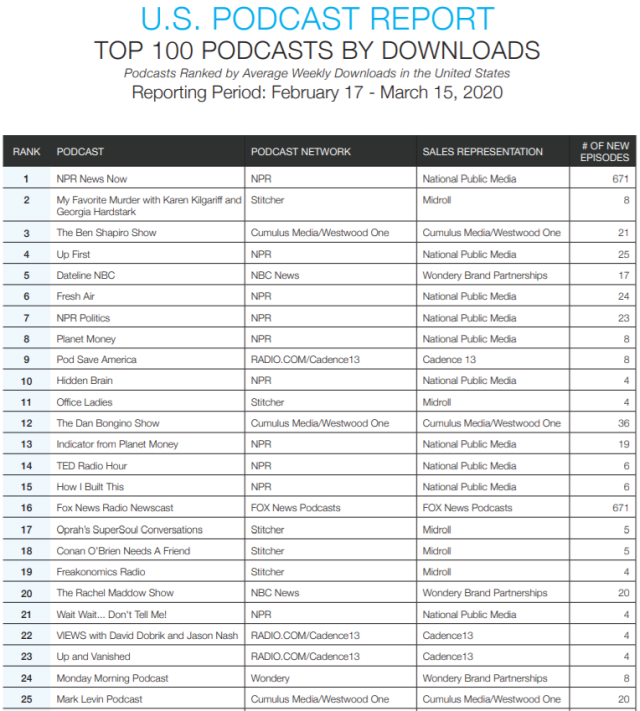 Triton Digital has expanded its Podcast Ranker product to the United States, after releasing rankers for podcast consumption in Australia and LATAM. The company released its first assessment of the top podcasts in the U.S. The data come from Triton's Podcast Metrics measurement service, and includes both individual shows and leading networks. The inaugural report covers February 17 through March 15, and is a measurement of average weekly metrics during that period.
"We are pleased to expand our Podcast Reports to the United States, providing buyers with the trustworthy, third-party podcast measurement they need to make informed decisions around podcast advertising," said John Rosso, president of market development for Triton Digital. "Additionally, our Podcast Reports are providing Networks with the reputable consumption data they need to grow their podcast strategies, gain a better understanding of their audiences, and increase their advertising revenue."
In ranking individual shows, Triton's Podcast Ranker includes figures for average weekly downloads and average weekly users. NPR News Now was the top podcast by downloads, followed by My Favorite Murder and The Ben Shapiro Show. Up First and Dateline NBC rounded out the top five.
NPR News Now was also the top podcast by users. Up First ranked second by this metric, and another NPR program, Fresh Air, came fifth.
NPR was Triton's top network for the period. By its accounting, the public media operation had more than 39.2 million average weekly downloads and more than 12.8 million average weekly users across 52 active shows. RADIO.COM/Cadence13 placed second and Stitcher came third. Traditional radio broadcasters had a positive showing in Triton's assessment, with Cumulus Media/Westwood One, CBC/Radio-Canada, and Beasley Media Group also making the top 10.
As with any server-side measurement system, participants in these charts are Triton Digital measurement clients. This product launches in the same space as the Podtrac monthly show and publishers lists, but even casual observers will see notable differences and network/publisher absences. In Triton's reckoning, iHeartRadio does not appear (it is the #2 publishers in Podtrac), while Stitcher appears in Triton's network list but is missing from Podtrac. (Stitcher claims the #2 spot in Triton's Weekly Users list, and #3 in the Weekly Downloads accounting.)
The range of networks and shows that represented in Triton Podcast Metrics also hints at the long history of Triton's client relationships. The The company was providing technology backbones and measurement before the modern resurgent era of podcasting, and even before streaming music services lifted into the mainstream. So, we see RADIO.COM/Cadence13 (subsidiaries of Entercom), CBC/Radio-Canada, and Beasley Media Group in the Top 10 Networks.
The U.S. is the latest market to receive the Podcast Ranker treatment from Triton. The company also shares charts for Australia and Latin America.