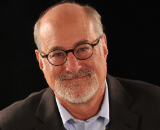 Steve Goldstein's Amplifi Media works with media companies and podcasters in developing audio content strategies. This column was originally published on Blogstein, the Amplifi blog.
---
The past year has shown how difficult it can be to make predictions.  So, lets do something different and follow the trends. Here are four "mega" trends which will likely affect podcasting in 2017.
1. It's getting easier to listen, but still not easy enough – Podcasting is all about mobile. And mobile is all about on-demand content via the smartphone. The stats are clear.  Libsyn reports 84% of podcasts are consumed on mobile devices and that number is rising. The catalysts for podcast growth are the same as all media; breakthrough content and ease of use. One of the primary reasons the median age of podcasting is young, is the mastery and comfort of smartphones among millennials.  Many younger podcast listeners for example, discovered public radio shows via podcasts.  Not broadcast.
Podcasting is all about downloads and streams on the phone. More education of "how to" listen is key.
2. Two new technologies make podcasts easier to find and listen to – New tech is podcasting's friend. The proliferation of Connected Cars and AI (Artificial Intelligence) removes much of the friction in the process of downloading and streaming podcasts.
The Connected Car will go into hyperdrive with Apple's CarPlay and Google's Android Auto in 200 car models.  Google also released an app enabling greater connectivity with any connected car.   Podcasting buttons move front and center.
The rapid growth of Artificial Intelligence is already showing signs of impact. Calling out the name of a show for instant play puts podcasts on equal footing with other audio choices. According to industry reports, Amazon has sold over 5 million Echo devices. Google Home had a significant television campaign and robust sales over the holiday. Car manufacturers are planning announcements for AI integration at this week's CES.
3. The flood of podcasts will continue.  For now. –  Every day we see announcements about new podcasts.  It's an undeniable trend.  Podcasts are hip and companies want a presence. Some industry observers have called it "peak podcasting." Doing great audio, however, is hard and the mortality rate will rise.  Already, estimates show about one third of podcasts series have ceased production.
4. Discovery is difficult – We are talking about podcasts but could easily be speaking of TV, video, news and websites. While historically media success comes from great content that people seek out, it is becoming more evident that in a sea of podcasts, good content alone is far from a guarantee of discovery and sampling. There are many great podcasts languishing. Podcast ascendancy has always had a tie to social media but will increasingly be linked to cross-promotion proficiencies with other media and deep marketing skills beyond social.  Discovery is the defining problem for podcasters and most content creators on all platforms.  Discovery is the venerable "needle in a haystack" in a content rich environment.
One prediction – Facebook's new "Live Audio" may turn out to be a win for podcasters – OK, this one is a prediction, since it hasn't happened yet. In first quarter, Facebook will put audio into its news feed algorithm, and if it follows the trend of print and video, it may open the gates for audio discovery. It potentially gives podcasting some elusive virality including easier sampling of show clips. From Facebook's blog;  "We know that sometimes publishers want to tell a story on Facebook with words and not video."  Facebook has changed the calculation for many of the other media platforms.
Follow the "mega" trends in 2017.