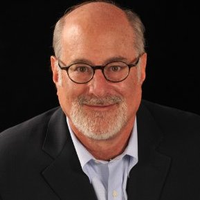 Steve Goldstein's Amplifi Media works with media companies and podcasters in developing audio content strategies. Goldstein writes frequently at the Amplifi blog. Steve can be reached directly at 203-221-1400 or sjgoldstein-at-amplifimedia-dot-com.
---
There is a lot of chatter about the new era of "efficiency" in business today. In the past few months, with fears of a slowing economy, many big companies, especially tech-focused ones like Meta and Amazon, are letting thousands of employees go. Amazon built a new Amazon Fresh Supermarket in our community, but it has been idle and empty for six months as they reassess the business. Amazon also halted construction on a second headquarters in the Washington DC area. As for Meta, the jokes about the metaverse abound.
Video streaming companies from Disney+ to Netflix have switched their relentless focus of acquiring new audiences at all costs to rightsizing their organizations and driving profit. They know there are too many services chasing too few eyeballs. Churn and retention have moved up on the priority list. In many cases, this impacts content — dropping or not renewing shows and greenlighting fewer new ones. In the case of Netflix, they are cracking down on password sharing and introduced an advertising tier to attract and retain users who don't want the monthly credit card hit.
As for the podcast business, there is also a significant shift. Yield and efficiency have made its way to us. As we move past the euphoric state of "everyone should have a podcast" and its cousin, "it's easy to make a good podcast," we see trimming at most pureplay podcast companies and similar belt-tightening at audio units within larger companies. Those cuts include sunsetting podcasts, staff reductions, and hiring freezes. Even podcast companies still growing and hiring report more rigor and scrutiny with current and new projects.
Going forward, the podcast business will be scrutinizing everything more closely
Recently, NPR was added to the list when they cut several podcasts and staff members.
While it is indeed sad and sobering reading about any cutbacks in the podcast space, most of this feels inevitable. If you think about it through the lens of the TV business, the mortality rate of shows has always been brutal. Lower-rated TV shows are almost always canceled to make room for new ones. As they say in TV, "sales dollars chase eyeballs." It's no different in audio, whether it is streaming, AM/FM radio, or podcasting – "sales dollars chase ears."
In podcasting, we see the cancellation of shows that never took off, missed the mark, or simply aren't delivering. In some podcast companies, we have observed a change of posture to quality over quantity, which we have long espoused in our advisory work.
It's hard to make a hit, and it's hard to keep a hit a hit. In 1994, marketing gurus Ries and Trout espoused "The Law of Focus" as part of their seminal book The 22 Immutable Laws of Marketing. Organizations with too many podcast titles risk losing focus. They can spend too much of their limited money, time, effort and resources nurturing shows that won't make the grade. Inevitably another Ries and Trout goodie comes in to play, the "The Law of Sacrifice." Something has to give.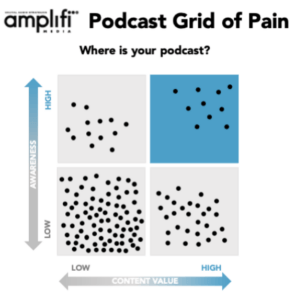 We find ourselves using Amplifi Media's Grid of Pain more often these days. It is a valuable tool and cold-water reminder that most content lives in the bottom left quadrant. Most shows are not highly differentiated from more established podcasts, awareness is too low to gain momentum, or the show fails to deliver what we call HVC – High-Value Content. Plotting a podcast title on the grid often opens eyes to the challenge each show faces.