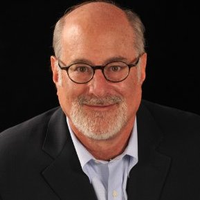 Steve Goldstein's Amplifi Media works with media companies and podcasters in developing audio content strategies. Goldstein writes frequently at the Amplifi blog. Steve can be reached directly at 203-221-1400 or sjgoldstein-at-amplifimedia-dot-com.
---
 At last week's Podcast Movement Evolutions conference, I moderated "View From the Top," a panel with a wonderful group of top podcast executives to discuss the rapidly changing business and its direction in the future.
With us were Jeanine Wright, the COO of Wondery, James Cridland, Editor of Podnews, Daniel Albright, President/Co-Founder of Tenderfoot.TV, and Mayowa Ajayi, Managing Director at Guggenheim Partners. We discussed continued consolidation, monetization, content trends, YouTube, discovery and more.
Here is a summary of our 'View from the Top' panel, edited for clarity.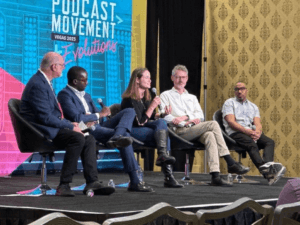 The rightsizing of podcasting – is the bloom off the rose?
"My grandmother used to talk about pruning roses to make them blossom. We are seeing people being more disciplined in the kind of content they are releasing, the genres, looking into the data, and the audience. There is more strategy behind the kinds of content we're launching and the kinds of things that we're deciding not to do. One of the big advantages of working at a company like Amazon is that they can take a very long-term view of markets and see opportunities that are still in the early stages and can invest. I am so blessed and privileged to be part of Amazon over these last two years and to have their momentum. We are continuing to hire sellers and expand our ad network." —JW
"It definitely feels different. We can partner with different companies and really chart our own path. There has been a lot of acquisition of shows, but not all have had the right amount of time to pay off. We can also take the subscription route, which is a goal of ours." — DA
"With any form of media in its early stages, there's always been a land grab. For now, that's gone. Companies are realizing what works and what doesn't. There's a discipline that's coming into play. People are going to be more disciplined with their dollars and how they think about ROI going forward. It's still a very young business." — MA

The number of new podcasts is down. Does this concern you?
"Numbers need to be put in context. The number of podcasts has fallen off the roof. That's not necessarily bad. The ease of starting a podcast has been a big factor in the last few years. That drop-off is not bad because it can mean that people who are serious about the business are still focusing on it — and the less serious ones are leaving. Content that actually resonates with people and can be monetized is going to be the focus going forward." — MA
"I found so many of the articles making a great mistake. Spotify has grown its podcast audience massively. It is number one in most countries around the world. There are so many factors, a war in Ukraine, Brexit, and a pandemic. Whenever I look at the financials, I see that the podcasting parts of businesses are still doing really well." — JC
"Well, you know the "field of dreams" adage, build it, and they will come. There are too many podcasts out there and too much competition. But, we are growing the number of people who are listening to podcasts, about 6 million listeners year over year."  — JW

Why has the number of people listening to podcasts grown faster than podcast sales?
"It's still a pretty new medium, especially on the brand side of the business. We've been doing a lot of growing up. Our sales team really has to sell twice. First, they have to sell podcasting, and then they have to sell Wondery. It's still a pretty new medium, especially for the brand side of the business. We are also developing better tools for things like brand safety and measurement. The innovation still needs to catch up, and that will continue to fuel more advertisers coming into the space." — JW

Is more consolidation on the way?
"My general view is that will happen. If you think about content and infrastructure needs, it's a very fragmented space. Based on my conversations with individuals and companies, it certainly feels like there will be consolidation, particularly on the infrastructure ad tech side. However, it's probably on hold for now given how the market is operating and willingness to put capital out there." — MA

What should the podcast industry be considering when it comes to YouTube?
"When we look at what Google has been doing, there seems to be remarkable consistency in dropping the ball. They had a product called Google Listen, then Google Play music, then Google Podcasts, then YouTube, and now the YouTube music app, which is not the same as YouTube." — JC
"Some creators have started exploring video and have figured out how to do it and how to make something fantastic out of it. Our creative team likes to experiment with a new format or a new story. I believe it empowers creators with new tools. We are at the very beginning of what podcast video is." — JW
"Great video or making a great TV show is difficult for smaller podcasts. The budget for one episode of a narrative true crime TV show is high. For a podcast, it can cost way more than producing the audio. It could be ten times more." —DA
"One big difference between TV, which works in silos with every company having their own app, is podcasts are an open platform. Anyone can produce content and get it on all platforms, whether Apple, Spotify or anywhere else. We should be careful just aligning with Google. Why would we want that?" — JC
What are your thoughts on podcast discovery and how it impacts the business?
"There are big differences in where you find a show. Producers have different places to place content, but monetization and control may not be the same. It's going to be interesting to see how that plays out. Some platforms may not be better." —  JC
"There's just so much content out there. I think people don't realize, especially independent creators, how much effort goes into breaking through. Sometimes we have to cancel shows that were really, really good should have found an audience. That's where you see optimism on the YouTube side. It's the number two way that people are discovering podcasts now right after word of mouth." We have almost as many people who are just as creative and just as brilliant on the marketing side of our organization who are helping to get our shows to break through. Every time they have to find new tactics and ways to market. The same things that we used to do are becoming harder and harder." — JW
Those are just a handle-full of the insights from our talented panel.  I thank them for sharing their wisdom, thoughts, and insights on the podcast industry.