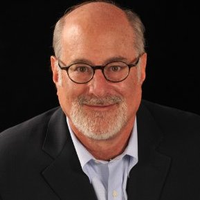 Steve Goldstein's Amplifi Media works with media companies and podcasters in developing audio content strategies. Goldstein writes frequently at Blogstein, the Amplifi blog. Steve can be reached directly at 203-221-1400 or sjgoldstein-at-amplifimedia-dot-com.
---
Spoken word's share of ALL audio listening continues to rise. That's good news. According to Edison Research, it's up 40% in the past seven years. More good news. Where that listening is coming from is a trend that should frighten every talk radio station.
Spoken Word Listener Growth Is Coming From Podcasting 
Younger and diverse audiences are driving much of the increased listening to spoken word audio content. More and more, they are enjoying this content via podcasts. Tom Webster and Marshall Williams highlighted a nugget in a recent Edison/Ad Results Media presentation about podcast "Super Listeners 2021" focused on the whopping 116% increase in spoken word listening among those aged 13-24 over the same seven-year period.
According to Edison, podcast listening accounts for more than twice the amount of time 13–24-year-olds listen to spoken word audio. Simply put, young spoken word listeners are seeking and finding content of value beyond AM/FM Radio.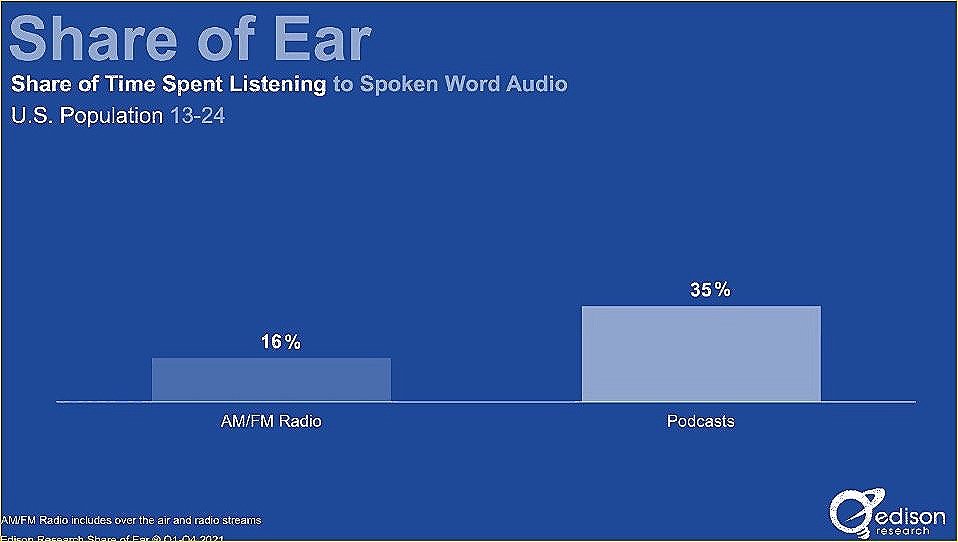 While the trend to podcast listening among spoken word listeners aged 13+ is abundantly clear, so is the impact of satellite radio, streaming and audiobooks.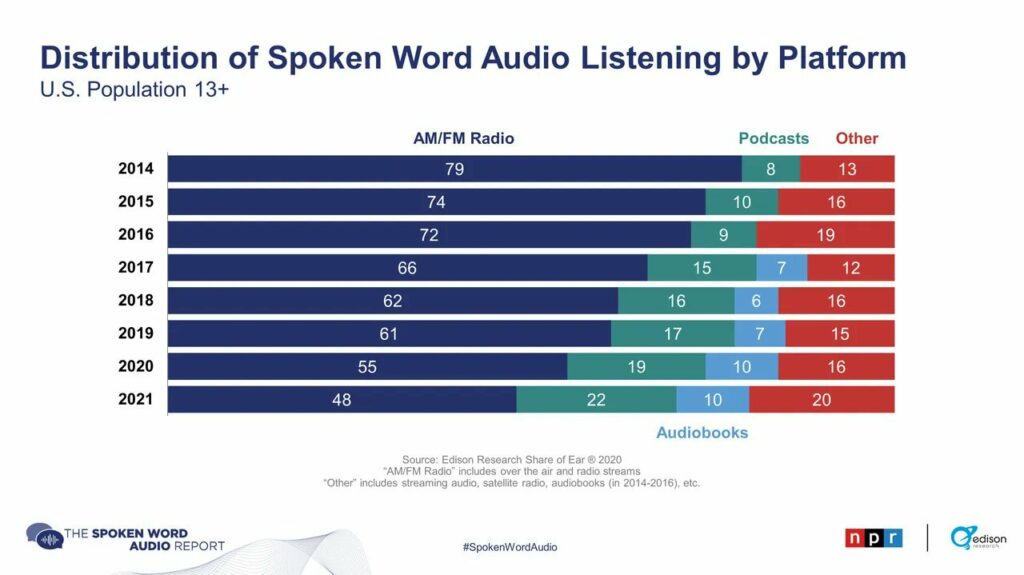 AM/FM Radio owned the category outright seven years ago. But looking at the past year, less than half of spoken word audio listening is on the radio dial. Even with a pandemic and a heated election cycle in 2020, the talk radio format, which decidedly slants to conservative politics, largely failed to grow audience in the crucial demo of adults 25-54.
According to news talk consultant Gabe Hobbs, 8 out of 10 stations saw a 25-54 decline in 2020. Even cume among older listeners (adults 35-64) didn't increase. Any gains were primarily from current listeners spending more time tuning in.
At 56, talk radio has the oldest median listener age of any major format in the U.S. and arguably skews sharply older in many individual markets. The biggest names in talk radio track closely to the format demo, Sean Hannity at 60 and Glenn Beck right behind at 58. Many other legacy hosts are certainly on AARP's mailing list.  It certainly doesn't help that many talk radio stations are on the withering AM radio band, which compounds the problem of attracting younger listeners.
More Listeners Get Their News Via Podcasts 
Another area worth zooming in on is the growth of people getting news from podcasts. According to a Pew Research Center survey conducted in July 2021, about a quarter of Americans "sometimes" or "often" get news from podcasts. Drilling down, you'll find more than one-in-three adults 18-29 (33%) say they get news from podcasts, and adults 30-49 clock in just a few percentages lower at 29%. All of this is happening at the same time many talk radio stations, which historically relied on news coverage to draw listeners, have taken their foot off the gas with a reduction of news staff. Many news broadcasts don't originate in the station's hometown but at regional hubs.

Variety Of Content Is Driving Podcast Growth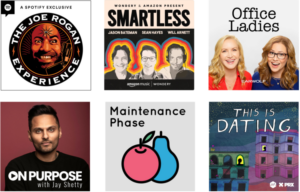 Talk radio is aware of their drop in cume audience and anemic development of younger listeners. Some have made moves to combat the issue. A handful of encouraging podcast-to-broadcast migrations come to mind, like Cumulus Media's syndication of 38 years old Ben Shapiro via Westwood One. Before migrating to commercial radio, Ben started with a successful podcast. Dan Bongino had a podcast and now has a top-performing podcast and a syndicated radio show. Rush Limbaugh, who past away a year ago at 70, was replaced by Buck Sexton and Clay Travis, two hosts in their 40's.
While this is good news, both are essentially duplicating the narrow appeal of political content already on those radio stations, while 13-34 year-olds appear to seek topics beyond conservative talk.
Podcast charts are populated with shows attracting young ears with diverse interests – examples range from The Joe Rogan Experience, Smartless, Office Ladies, On Purpose with Jay Shetty, Maintenance Phase, This is Dating, and so many more. Podcasters deliver different topics and fresh content not found on commercial talk radio.
 What Talk Radio Can Do To Compete
Talk radio needs to think beyond the transmitter and experiment with listening via streams, podcasts, and smart speakers to succeed in this environment. Programmers and hosts must be more inclusive, try new types of content, and work hard to attract different voices and audiences.
What matters most is to be bold and not afraid to branch out. Podcasting is a great way to discover and develop new talent – some of which may already be in your market – to build a profile for the future. Leaning into local podcasts can be a great differentiator too. Time-shifted content can be a good starting point but as we have advised clients for years, rarely the holy grail.
The median age for podcasting is 34. The next generation of spoken word listeners is accustomed to listening on-demand from their smartphones. It is going to be hard to defy that trend.