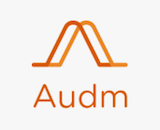 With podcasts and audiobooks continuing to grow in popularity, it makes sense that other forms of audio narration have been taking off too. The latest we've found is a startup called Audm, which delivers audio versions of select long-form journalism.
So far, the startup has Wired, The Atlantic, Esquire, Harper's Bazaar, Foreign Policy, The New York Review of Books, Outside Magazine, ProPublica, London Review of Books, and Backchannel among its publisher partners. Audm has professional voice actors read the pieces, which are all long-form articles of at least 3,000 words. Most are evergreen features rather than of-the-moment daily news. Audm releases between five and nine articles, or about 3-5 hours of content, each week.
Audm is in a similar industry segment as companies like Spoken Layer, but its business model asks for a premium to access high quality content. Audm requires a subscription of $6.99 a month to access the audio versions of the stories. It shares some of that revenue with the publishing partners. For now, the service is only available as an iOS app.