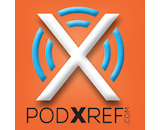 Podcast database Podxref is developing new technology for sharing show information with mobile listeners. The tech presents information about the personalities involved in a show episode, including both the hosts and guests, within a podcast player. It is a path toward possible podcast discovery by allowing listeners to tap for more content by a person whose work they enjoy. Podxref also offers the creation of saved playlists to follow talent across multiple shows. For instance, a fan of Chris Hardwick could track the comedian across his many appearances as a podcast host, guest, and cast member.
"It can work with any podcast player app," owner Matt Rehm told RAIN News. "It leverages an API that works within any standard player's design. Apps can choose how they consume and design the presentation of the personality data from integrating a guests social media to displaying trivia."
Podxref has clients in varying stages of the pipeline, and one relationship is expected to see implementation in Q4.